VORII
ElementDesk Super V3.0 Standing Desk Frame
ElementDesk Super V3.0 Standing Desk Frame
Customer Reviews
Write a Review
Ask a Question
Filter Reviews:
desk
height
frame
boxes
price
10/10
shipping
purchase
legs
opinion
04/23/2022
Jon G.

United States
Absolutely worth the price!
I had a custom desk that I built out of baltic birch & it weighs about 200lbs. When doing my research, I really wanted 4 legs to support the desk top but all the designs I saw online were terrible & just too old, basic looking for my design. Luckily I came across Vorii Desk Frame & it was on my "To Buy" list for over 6 months! Finally pulled the trigger on it and it's amazing!!! This desk frame is so heavy. Took about 45 minutes to put together. I swear I leg must weigh at least 30lbs. The design of it is brilliant & the new cable management addition is genius. It's a smooth & quiet change of height. I love it. Thank you Vorii!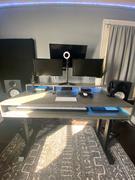 04/17/2022
Jim W.

United States
Very Impressed
I found a few sellers in the US that offer a 4 leg standing desk - Vorri, Uplift, Evodesk, Deskhaus. In my opinion, Vorri offers the sturdiest desk design at the best price. Vorri customer service was very responsive in answering my questions, pre/post purchase. Kudos to customer support for keeping me updated on my shipping date, as it was delayed to due covid. I only purchased the frame because I had planned on getting a custom desk top made locally. This was a mistake, as I'm having a hard time finding a local wood worker to do a custom build. In hindsight, I would've gone with the 71x32 straight edge Walnut wood top. The frame came in two boxes and was packaged very well. The frame is heavy and sturdy, which is exactly what I wanted. The motors are much quieter than reviews of other desks I'd watched on YouTube. The desk movement (up/down) is very smooth. Even though I don't have a desk top yet, the desk was extremely stable at max height, when I tested it after assembling it. All in all, I'm VERY IMPRESSED and VERY HAPPY with the frame. NOTE - the attached photos of the frame are at its lowest height, and smallest width, with the electronics/wiring removed. If I'm able, I'll update the photos once I get a desk top.
11/08/2022
Adetunji K.

United States
Pleasantly Surprised
For a while I've been looking for the perfect workbench/productivity desk and I don't think it gets better than this. Since I started using it I've noticed that with a standing desk at home it helps with getting work done into the later hours without fatigue or drowsyness. Additionally this desk with the grizzly solid maple workbench top feels like a commercial workbench and not like a floppy sausage. 10/10 would buy again!!! :)
So stable
It's so stable it feels indestructable.
Worth the money
I bought this frame because it looks so special. It's a bit pricey but worth it.