VORII
ElementDesk V3.0 // Ergo Laminate Top
Use code HW25 at checkout for 25% off.
The newly upgraded ElementDesk v3.0 has better lifting capacity, a more advanced anti-collision system, and a locking mechanism that protects the desk from uneven weight distribution on the tabletop. We designed this standing desk with special attention to its stability. The laminate top is 3D laminated for a flawless edge and better resistance to sagging. It also has an ergonomic shape with a smooth finish that is scratch and fingerprint-resistant.
Claim Your FREE  VORII Anti-Fatigue Mat ( $59 Value )
Contact our customer service through live chat or email to claim your FREE anti-fatigue mat after placing your desk order. Please include your color preference.


 Premium Ergonomic Laminate Top
- 1" thick MDF wood tabletop
- Pre-installed threaded inserts for quick and easy installation
- CARB P2 compliant
- Scratch-resistant and fingerprint-resistant
- Ergonomic Design
---
ElementDesk V3.0 Standing Desk Frame
- Dual motors
- 350 lbs lifting capacity
- Adjustable height range: 24.4" to 50"
- Four customizable height presets
- Gyroscope anti-collision system
- Wire management cover
- Travel speed: 1.5"/sec
- Low noise level: < 50 decibels

Free Shipping & Returns
Free shipping and returns during the 30-day trial period. Learn more about free trial conditions

Transit Time & Lead Time
Most in-stock items ship the next business day. Transit times are 2-5 business days depending on the destination area. Some larger items or bulk orders will be shipped via FedEx Freight and may take up to 7 business days. 


ElementDesk Super V3.0 will be shipped around Dec 10.
ElmentDesk V3.0 with blue frame will be shipped around Nov 15.

Expedited Shipping
If you are in a hurry to receive your order, the FedEx 2day air shipping option is available by contacting customer support.
15-Year Limited Warranty
All VORII standing desks purchased in the U.S. are covered by a limited, non-transferable 15-year warranty. 
Solid Desktop
CARB P2 Compliant | Fingerprint-resistant | Scratch-resistant
The ElementDesk V3.0 is built with a 1" single-piece CARB P2/ E0 certified MDF wood top that is ergonomically shaped for comfort when sitting or standing.






.


3D Laminated
Longer Lifetime | Cleaner Look
The ergo tops are 3D laminated. The MDF core of the desktop are completely sealed to prevent moisture from getting inside and causing sagging.
Pre-Installed Threaded Inserts
Easier Assembly
Threaded metal inserts are pre-installed in all of our desktops. They make the assembly process easier. The inserts are re-usable, so you can disassemble and re-assemble without needing to drill new holes.
Enhanced Dual-Motor Frame
350 lbs | 4 Memory Presets | <50 dB
Powered by a dual electric motor that is 20% quieter and has 126% more lifting power than a single motor desk. The ElementDesk V3.0 desk frame is built from SPCC steel and has 350 lbs lifting capacity. In short, the ElementDesk V3.0 frame has the best specs that a two-leg frame can offer.
Gyroscope Anti-Collision System
Adjustable Sensitivity | Extra Safety
The anti-collision is a must-have feature for standing desks. Our anti-collision system uses both gyroscope and ammeter sensors to ensure your desk will stop when hitting obstacles to prevent damages and injuries.
Cable Management Cover
Better Wire Management
Everyone hates messy wires. The desk comes with this cable management cover. It helps you hide the power box and the wires.
Three-Stage Leg
Extended Height Adjustable Range
ElementDesk V3.0 desks have the best-in-class adjustable height range from 24.4" to 50"


RISK-FREE
Free Shipping, 30-Day Trial, 15 Year Warranty
ElementDesk V3.0 // Ergo Laminate Top
Customer Reviews
Write a Review
Ask a Question
Wish I had ordered months ago
I've been working on the dining table for months. Finally got a stipend from my company to pay for a standing desk. It's simply life changing. I'm a lot more active and efficient during the day.
I LOVE this Desk!!!! Amazing quality all around!
Don't look else well seriously. This is your next desk. After many many months of searching the gazillion of options out there, a friend and colleague of mine suggested this desk. I took his work, and I am so glad I did. Superb quality all around, from the mechanics, the style, and the table top. All look and feel premium. My only critical feedback are the instructions, much room for improvement in that area, and they need to be more specific to the size you buy. Also a video would be a HUGE help. It only makes sense to have one in this day and age.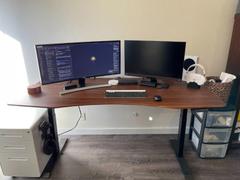 Great desk
Very good standing desk. Has been sturdy so far, even at high levels, although I can't compare how this relates to competitors. Goes up very high to levels that many competitors cannot. Customer service was great and the desk arrived very quickly in perfect condition. The desk is very aesthetically pleasing and easy to put together. It could use better cord management though including desk grommets, although some hooks are included which helps. I would definitely recommend if you are looking for a good quality, affordable standing desk.