ElementDesk V3.0 // Laminate Top
RISK-FREE
Free Shipping, 45-Day Trial, 15 Year Warranty
Solid Desktop
CARB P2 Compliant | Fingerprint-resistant | Scratch-resistant
The ElementDesk V3.0 is built with a 1" single-piece CARB P2/ E0 certified MDF wood top. The tops are 3D laminated, so the MDF core of the desktop are completely sealed to prevent moisture from getting inside and causing sagging.


Enhanced Dual-Motor Frame
390 lbs | 4 Memory Presets | <50 dB
Powered by a dual electric motor that is 20% quieter and has 123% more lifting power than a single motor desk. The ElementDesk V3.0 desk frame is built from SPCC steel and has 390 lbs lifting capacity. In short, the ElementDesk V3.0 frame has the best specs that a two-leg frame can offer.
Gyroscope Anti-Collision System
Adjustable Sensitivity | Extra Safety
The anti-collision is a must-have feature for standing desks. Our anti-collision system uses both gyroscope and ammeter sensors to ensure your desk will stop when hitting obstacles to prevent damages and injuries.

Cable Management Cover
Better Wire Management
The desk comes with a cable management cover for easier wire management.
Three-Stage Leg
Extended Height Adjustable Range
ElementDesk V3.0 desks have the best-in-class adjustable height range from 24.4" to 50"
ElementDesk V3.0 // Laminate Top
Customer Reviews
Write a Review
Ask a Question
Filter Reviews:
desk
issues
quality
reviews
experience
shipping
Vorri
2020
March of 2020
type
05/08/2022
Mario S.

Canada
Why did I waited soo long....
After working from home for 2 years, I never realized the benefit of an adjustable desk.. Received my ElementDesk V3.0 with a laminate top Friday.. spent my whole Saturday to dismantle my old office desks.. Assembly of the VORII was a breeze and, wow, just wow!!!! Why I did not proceed earlier to be able to stand to work.. I have a little regret now.. should of bite the bullet and order the resin top.. The resin top will be my next purchase!!!!! Super great product!!! Thanks to the VORII team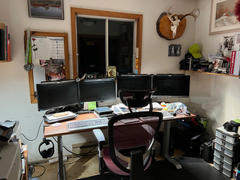 04/12/2022
Lynn P.

United States
Perfect
So far, it is perfect. Table arrived in 2 boxes, one day apart. FedEx kept me informed. Incidentally, I sent an email to Vorri after receiving the first package and they followed up the next day to make sure I had received the second box. Assembly instructions are uncomplicated, good pictures. I almost passed on this brand because I needed wheels on my desk, but I emailed, and they told me what wheels to purchase. Rarely write reviews but this was a great experience, and so far is a wonderful product.
12/25/2021
Silvio A.

United States
Wonderful desk
I'm very happy with this desk! Shipping was relatively prompt and everything came in good condition, no damage whatsoever. Instructions were actually very detailed, which I noticed immediately and I appreciated that. The only issue I had was the labelling for the screws used, they are labeled very similarly and it led to some confusion, which led to me stripping some of the housing for two of the screws underneath the desk. I think that the material used for the screws and housing needs to be improved because, as it stands, its of lower quality and very easily stripped. I ended up having to screw directly into the bottom of the desk in order to secure the legs in place. I also find the height control panel to feel a bit cheap and flimsy and one of the screws seems ill-adjusted, causing the control to move about freely on one side. Could no doubt be improved, given the price of the desk. Aside from those issues, everything is quite solid. The material of the desktop itself is top-notch and feels and looks amazing. Everything feels solid - legs, top, height adjustment mechanism, everything. It's quite a lovely desk and is gorgeous to look at, very minimal design and smooth functionality that catches everyone's attention. I have noticed that the anti-collision is non-existent at times, though, so that's something to take into consideration as well. Overall, I'm very happy. A bit disappointed about the shortcomings mentioned above and I feel a tad misled by the advertising but my overall day-to-day experience with this desk has been super fulfilling. 4/5 in my book.
Hi Silvio, thanks for the review. You can adjust the sensitivity of the anti-collision system. Yours is probably too low. We've sent you the instructions via email. Please let us know if you have any questions.
12/21/2021
Matthew G.

United States
10/22/2021
Bob S.

United States
Element Desk V3.0
I absolutely love the desk. I have been work at home since March of 2020. It seems the norm these day to easily be putting in 10 hours a day. When I started researching I was looking for a manual desktop model. After reading reviews I was worried they would not be stable enough. Then started looking at the full desk electric style. Seems most of the reviews again talked about stability. I decided to chose the Vorii because of the great reviews, full return policy, and the price point. Some where double the cost but since this was my first standing desk, they offered free returns, and I liked the price point thought I would give it a try. Not disappointed at all. The desk is very stable even at full standing height. I'm 6'5" and 230 lbs. The desk extends taller than what I use at so no issues there. If you are looking at this type of desk I would recommend giving them a try.